We are delighted that you would like to have your child christened or that you are considering it for yourself.
Christenings during the Pandemic
With some sensible restrictions to keep people safe, we can conduct christenings again in our churches. You may wish to rebook a christening now with Rev'd Bryony or you might like to wait until next year when hopefully the strict social distancing and other measures may no longer be needed.
Please ring Rev'd Bryony on 01246 813569 to discuss your needs or email revbryonytaylor@gmail.com.
If you do decide to go ahead with a christening these are the following things to bear in mind:
Guest numbers are limited to 30 people and contact details will be taken and kept for 21 days for NHS Test and Trace purposes
People will sit in the pews in church in a socially distanced way (basically every other pew)
Guests will be expected to wear a face covering for the duration of the service (about 20 mins max) unless they have a medical exemption. The vicar will also be wearing a face covering.
You will need to hold the child to be christened for the duration of the service (or place in a baby carrier) and hold your child over the font for the christening (usually the baby is given to the priest for the christening).
If you wish, the service can be live-streamed on Facebook or one of your party may video the christening so that others who can't attend in person can watch the service.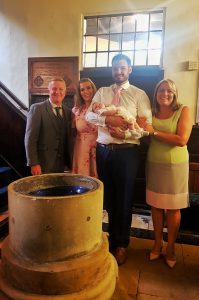 During a christening your child will be baptized with water. It's the start of an amazing journey of faith and a special day for all your friends and family.
At St James the Greater, Barlborough our Christenings are usually on the Second Sunday of the Month at 2.30pm and 3.30pm.
At St John the Baptist, Clowne our Christenings are usually on the Third Sunday of the Month at 2.30pm and 3.30pm.
We have no more than two families at each service and the relaxed but special service lasts around half an hour.
If you would rather have your child christened in the Sunday Morning Eucharist service please speak to the Rector.
If you would like to book a christening with us please get in touch here.