Safe Space Clowne meets on Tuesdays at St John the Baptist Church, Clowne – drop in any time after 2pm and stay for as long as you need. There will  be tea, coffee, cake and the chance to chat in a friendly, safe environment. Our first meeting will be on Tuesday 20th November from 2pm and it will meet every week thereafter, same time, same place. Feel free to join our Facebook group as well – a safe space to get support from others in a similar situation: https://www.facebook.com/groups/safespaceclowne/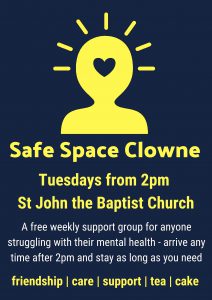 What is the aim of Safe Space Clowne?
The group aims to provide empathy, acceptance and reassurance in a non-judgemental way by providing a listening ear, practical help and support to make coping with life's challenges that bit easier.
Who can attend Safe Space Clowne?
The group is for anyone who maybe struggling with an aspect of mental health, be that anxiety, bereavement, depression, or similar mood related conditions. No referral is needed, although if you attend regularly it is recommended you let your doctor or therapist know.
Is Safe Space Clowne suitable for everyone?
In order to look after people who attend the support groups and the volunteers the group reserves the right to ask people not to attend the group if, for example, they are disruptive, acting in a disrespectful way, under the influence of addictive substances or alcohol and if their presence is not benefitting them or others in the group.
Safe Space Clowne are also bound by a duty of care if a person attending the group discloses something that may put themselves or others at risk the group will contact wider support.
Useful Numbers
Samaritans 116 123 (Freephone 24/7)
NHS Mental Health Helpline 0800 915 4640 (Freephone)
The group also have many others contacts that may be of use – please ask.